We occasionally team up stories with each other in one post when they have something in common. This week, it's a trio of new studies on the Mediterranean Diet which have revealed further benefits in widely separated parts of the diet and nutrition spectrum…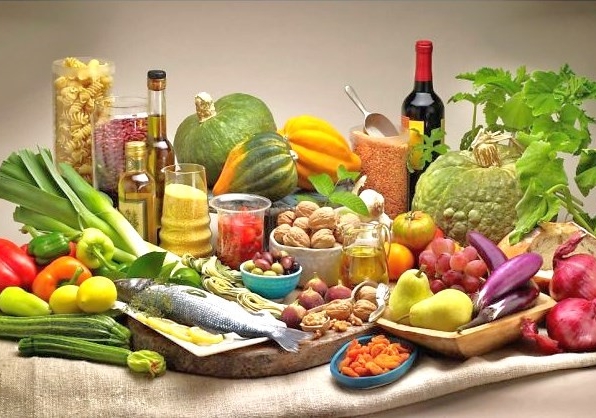 The Mediterranean Diet – A 'family portrait': If we could just
get the price of fresh produce under control, we could
make it available to millions more average folks…
The more we hear about the Mediterranean diet, the better it sounds. This week, we have results of three new studies about the potential benefits of following the Med regime. Two are associated with fighting dementia…
Med fights Alz
Experts at Newcastle University found that individuals who ate a Mediterranean-like diet had up to 23 percent lower risk for dementia than those who did not.
Scientists analysed data from 60,298 individuals from the UK Biobank, a large cohort including individuals from across the UK, who had completed a dietary assessment. And, as most research scientists will tell you, the more participants in a patient-based study, the better – the higher the level of confidence study runners can have in their findings.
The authors scored individuals based on how closely their diet matched the key features of a Mediterranean one. The participants were followed for almost a decade, during which time there were 882 cases of dementia. That's a remarkably small number of Alz cases for such a large base population of subjects.
The authors found there was, "no significant interaction between the polygenic risk for dementia and the associations between Mediterranean diet adherence. They say this may indicate that even for those with a higher genetic risk, having a better diet could reduce the likelihood of developing the condition."
The study looked at only individuals who self-reported their ethnic background as white, British or Irish.' They caution that further research is needed to see if the anti-Alz benefit of the Med Diet extends to other populations.
Med appears to fight brain plaques
A new American Academy of Neurology study indicates that, "People who eat diets rich in green leafy vegetables as well as other vegetables, fruits, whole grains, olive oil, beans, nuts and fish may have fewer amyloid plaques and tau tangles in their brain – signs of Alzheimer's disease – than people who do not consume such diets, according to a new study."
'Such diets' include both the Mediterranean and MIND regimes.
According to an abstract of the study report: "For the Mediterranean diet, there were 11 food categories. Participants were given a score of zero to 55, with higher scores if they adhered to the diet in these categories: whole grain cereals, fruits, vegetables, legumes, olive oil, fish and potatoes. They were given lower scores if they ate red meat, poultry and full-fat dairy products."
"For the MIND diet, there were 15 categories. Participants were given a score of zero to 15, with one point each for 10 brain-healthy food groups including green leafy vegetables, other vegetables, nuts, berries, beans, whole grains, fish, poultry, olive oil, and wine. They lost a point if they ate foods more than recommended in five unhealthy food group."
"Our finding that eating more green leafy vegetables is in itself associated with fewer signs of Alzheimer's disease in the brain is intriguing enough for people to consider adding more of these vegetables to their diet," said study author Dr. Puja Agarwal of RUSH University in Chicago. "Future studies are needed to establish [and expand] our findings further."
Med Diet may help fight prostate cancer
Prostate cancer remains one of the most common and fatal cancers in men," the preamble of a new study on prostate cancer tells us. "But the nutritional deficiencies associated with it remain largely unknown, hence this study.
"Other risk factors, such as ethnicity, family history and age have previously been linked to prostate cancer. […] There is strong evidence that being overweight and tall increases the risk of prostate cancer. Diets high in dairy products and low in vitamin E may also increase the risk but the evidence [there] is less clear."
Vitamin E is abundant in plant-based oils, nuts, seeds, fruits, and vegetables. So is the Med Diet.
Study co-author Dr Permal Deo says eating foods that are naturally rich in lycopene and selenium is preferable to taking supplements, where the benefits are limited, according to previous studies. Foods that are rich in lycopene include tomatoes, melons, papayas, grapes, peaches, watermelons, and cranberries. Selenium-rich foods include white meat, fish, shellfish, eggs, and nuts. Again, such foods make up a large proportion of those recommended under the Med Diet.
Further more, Deo says, "eating foods that are naturally rich in lycopene and selenium is preferable to taking supplements, where the benefits are limited, according to previous studies."
The bottom line…
Not all the news about dietary effects on dementia are good news. But there's enough this past week about the Med Diet alone to recommend it for more than mere 'honorary mention' status.
Now… If we could just hammer down the price of fresh fruits and veggies, nuts and seeds and their oils, and healthy proteins such as fish and seafood, we might be able to make affordable enough recommendations for the average person that they could follow regimes like the Med Diet, and still have enough money left over in their budgets to pay monthly rent and utility bills…
~ Maggie J.