Bloomberg Business News says McDonald's will relaunch its high-end McCafé concept next year in an all-out offensive against purveyors such as Starbucks. And the Burger Giant's secret weapons are going to be deep discount pricing and fair trade policies matching other high-end vendors.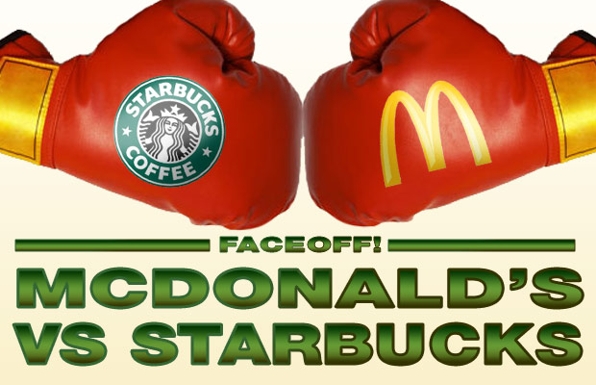 McD's is targeting the High-End Coffee sector for an invasion
designed to capture sales and market share…
McDonald's has been losing sales on the coffee front to other vendors over the past couple of years, part of an overall stagnation in sales – the first such fiscal slump ever for the world's largest Burger chain. But McDonald's has also been announcing new initiatives all this past year, in its attempt to rebrand – reinvent – itself and, thereby, differentiate and elevate its corporate image above the competition.
Among McD's attempts to re-invent not only itself but the entire Burger market are its recent roll-out of the 'McD's of the Future' concept, including cashless touch-screen kiosk ordering, Table service and a totally revamped 'homier' decor.
The re-launch of the McCafé concept does not come as a surprise; actually, it frames the original McCafé initiative as a test-market for the brand, which operates parallel to the familiar McDonald's Burger outlets, in its own separate storefronts.
Secret weapons…
McDonald's will relaunch McCafé with some notable policy changes designed to meet Starbuck's fair trade support and other initiatives head on. Aggressive pricing – at least to start – is designed to drill into Starbuck's fortress-like hold on the high-end Coffee and Treats segment.
How aggressive?
McDonald's plans to sell basic Drip Coffee for $1 and small Specialty Beverages for just $2 during the first quarter of next year as an opening salvo, McD's U.S. Senior Vice President of Strategy and Insights Kristy Cunningham told Bloomberg. Starbuck's, for comparison, currently sells a Drip for (US)$2.10 and Specialty drinks for (US)$4.25. You can bet McD's 'half-price' deal will attract a lot of Starbuck's customers, to at least try the competition! Whether they come back for another dose of designer caffeine remains to be seen…
So it goes…
A victor will probably never be declared in the Battle of the Burger and Coffee Giants. It will be a never-ending cycle of 'back at you' for the competition every time one brand tries something new to boost sales and gain market share. Those players who don't play this desperate game will be left in the dust. They might as well start planning bail-outs, into other sectors, now. Or perish.
I've said, many times in this space, that the Burger sector was saturated and there were only two options for Burger Chains that wanted to survive: fight for top spot and do whatever it takes to hold onto it, or invade other sectors – like High-End Coffee and Treats – and poach revenues and customers from those other niches. McDonald's, it appears, is trying to do both.
~ Maggie J.