As you may have heard, on the morning news… Three BC McDonald's outlets operated by the same franchisee are being investigated by both McDonald's Canada and federal labour authorities after complaints that so-called 'temporary foreign workers' are being hired to displace Canadians…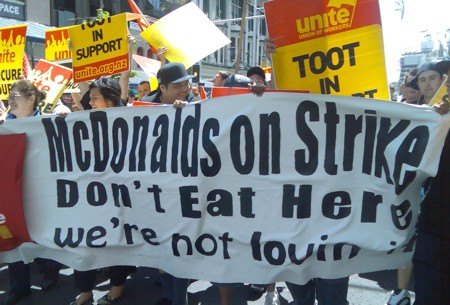 McDonald's is no stranger to labour disputes, around the world.
But the foreign workers controversy is something new…

Shame, shame, shame!
Why use temporary foreign workers? Because the law lets employers pay them significantly less than Canadian workers, and that's got to be an enticement to fast food entrepreneurs coming up against increasing competition and price hikes for their food products. But hiring temporary foreign workers to displace Canadian workers is against the law.
McDonald's Canada says it isn't even waiting for the results of the investigations. The company issued a statement almost immediately upon the appearance of the story on the Canadian Press wire yesterday:
"At McDonald's Canada, we do not tolerate infractions of any kind – intended or unintended. We are currently working through the process of terminating our relationship with this franchisee."
Neither is federal Labour Minister Jason Kenny demurring from the issue. He issued a strong statement yesterday, as well:
"I have reasonable grounds to believe that this employer provided Employment and Social Development Canada with false, misleading or inaccurate information."
Tip of the iceberg?
But this may be just the tip of the iceberg.
I wish I had a dollar for every time I went into a Tim Horton's outlet over the past year and found myself dealing with recent arrivals staffing the place who couldn't speak English well enough to understand my order, much less get it right in the take-out bag. Could they be so-called 'temporary foreign workers' too? And I've had the same experience in other burger joints and coffee franchises. Perhaps McDonald's, and the other fast food corporations, and Mr. Kenny, too, should be looking at the entire industry for 'temporary foreign worker' violations…
Is there an underlying problem, here?
The temporary foreign worker programme rules state that employers can only bring in foreign workers if they can't find Canadians to fill the jobs. What has happened to the legions of high school kids who used to be the backbone of the fast food industry's labour force? Don't they want to work anymore? What about the older folks who want to stay in circulation for a few shifts a week in their retirement? What about the part-timers who hold one or more part-time jobs on top of their regular job to try to earn a decent income? Or those who work to bring a much-needed second income into the household? Are even they turning their backs on the fast food industry?
Somebody needs to find out what's going on with the fast food employment picture and do something about it that's more than 'temporary'…
~ Maggie J.