For every basketball fan who chooses a winning March Madness bracket, there are millions who don't. Traditionally, nobody does much toward easing the grief of the masses. But now, on the doorstep of the playoffs, two of the biggest names in Pizza are stepping up…
NSIW (Not Seen In The Wild) since the 1990s! Pizza Hut's Mini Basketballs…
Next best thing to being there…
Pizza Hut is one the most 'involved' fast food retailers on field or court. This year, their MM slogan is 'Nobody Out-Pizzas The Hut!'. To prove it, they're bringing back their famous mini basketballs, last seen in the 1990s. This year, they're just $7. But you can only buy them online, starting March 14, and they're only here while supplies last.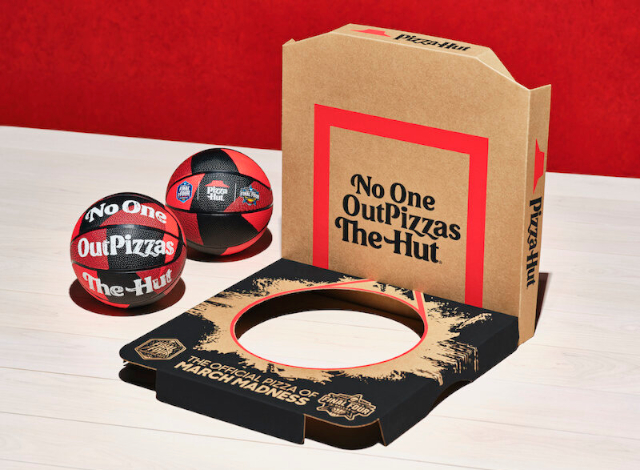 In addition, the Pizza Hut delivery box gets a limited-time makeover with a sexy new graphic motif – and it turns into a mini basketball hoop complete with backboard! NSFW, but LFAA (Loads of Fun Anywhere, Anytime)!
Cry me a (private) river
As the PBGs (Perfect-Bracket Gods) dance in the streets, swilling campagne, millions of other March Madness fans will be fighting tears, sucking down sullen beers and hiding their post-game red-eye behind closed drapes. For them, DiGiorno has designed a special Pizza to camouflage their sorrows.
The new Cry Pie features three kinds of onions to help explain your morose demeanor next time your guy misses that crucial 3-pointer.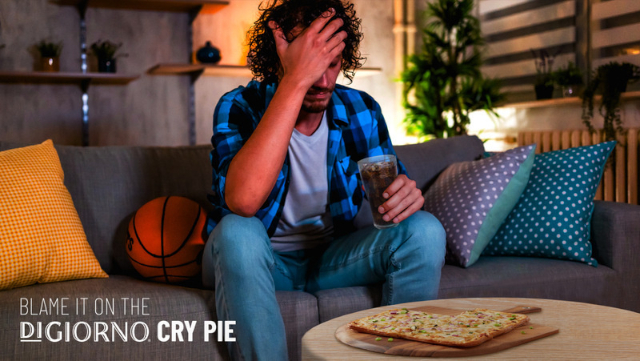 The onion medley actually sounds pretty good: aromatic red, caramelized yellow, and green, with alfredo sauce, and mozzarella cheese – all on DiGiorno's signature thin crust.
Because it's a deluxe heat-and-eat, you can also console yourself further by customizing this pie with whatever addition(s) you might crave.
When your comrades at work, your customers – even your inlaws – say, What the heck happened to you?", you can just wipe your eyes, sniffle, grin and reply, "Huh? Nothin'… It's just the pizza… Three kinds of onions…"
Whatever else you do, don't watch the playoffs alone: share your triumph or tragedy with family and friends. In the end, the kind of Pizza you order won't be such a big deal, win or lose!
~ Maggie J.