UPDATE: Just a day after my post about KFC pulling an ad campaign in the UK which drew more than 100 complaints, the Fried Chicken Giant appears to have come back with a slick, new "Oops! We Goofed" campaign. And it got me wondering if I and millions of others have been conned…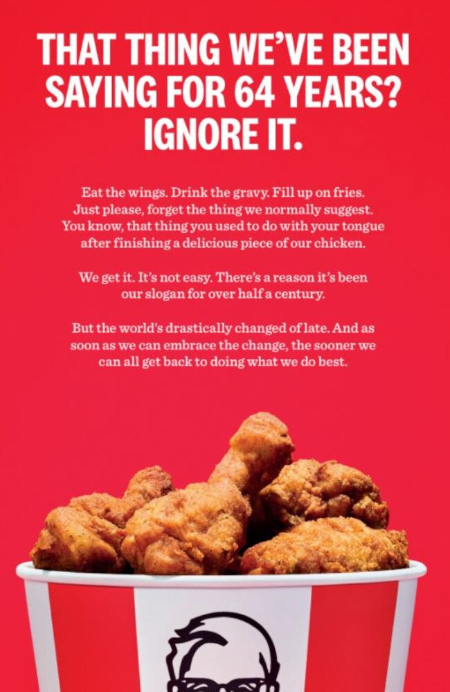 If not for the almost unbelievably clumsy effort by KFC Global to explain its ham-handed ad campaign based on the iconic 64-year-old slogan: "It's Finger Lickin' Good!", I might not have been suspicious of its 'official' response to primary mainstream and social media reaction. But, as I went into some detail to explain yesterday, it's hard to understand how a global corporation with more than 24,000 outlets could be so fantastically bad at composing such an important mea culpa message.
I just realized: I and millions of others have probably been duped by a slick, well-planned marketing program.
Too quick to be spontaneous
The follow-on, 'Oops!' media campaign came on within a few days; way too soon to be a spontaneous reaction to the (manufactured ?) outrage over the initial ads. It takes a minimum of weeks – more usually, months – to create and produce such materials as a whole collection of 'new' ads and supporting materials like the one that was deployed across the board earlier this week. There were videos, in-store posters, billboards, all capitalizing on the corporate admission that the famous KFC slogan, "right now […] doesn't feel quite right."
Doesn't pass the smell test
Does the follow-up message in the poster-born statement (pictured left) pass the 'smell test' with you?
My answer is a resounding, "No!"
So, what are we all supposed to do, now? After admitting I've been 'taken', I see no rational alternative than to just box-up all the evidence and stow it on a bottom shelf in the most remote corner of the FFB file room.
Meanwhile, don't feel sheepish about enjoying some of the other media content KFC has cooked up for this slightly annoying but nevertheless slick promo campaign…
~ Maggie J.