Welcome to our weekly roundup of the Fast Food sector's yummiest, greasiest, drippiest, Cheesiest news! On our menu we have a big merger (of sorts) of two major but non-competing brands and a slew of new menu item announcements that stretches the envelope even further…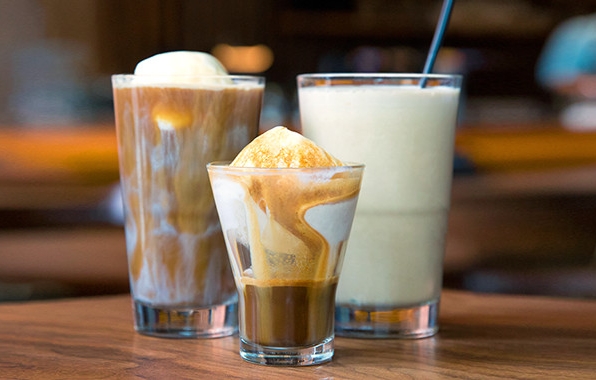 Starbuck's new Ice Cream Beverages…
Tim's/BK parent company buys Popeye's Chicken
3G/Halliburton has bought the Popeye's Chicken chain for (US)$1.8 billion. That gives them Burgers (BK), Chicken (Popeye's) and Coffee & pastries (Tim's). What's next? Perhaps a Seafood restaurant…
Wendy's switching to smaller chickens for 'improved quality'
Wendy's is 'upgrading' its Chicken Sandwiches (it says) by moving to smaller Chickens. They'll be more juicy and tender. In answer to the knee-jerk accusations that the Wendy's Sandwiches will be smaller, the company insists the amount of Chicken on each Bun will remain the same as it is now. We'll see…
Starbucks toying with Ice Cream
The Orange County Register reports that Starbucks is now serving Ice Cream drinks at all 200 or so of it's outlets in that CA region. The menu includes Affogato, an Ice Cream-over-Espresso 'float'; Cold-Brew Malts; and Cold-Brew Floats. Maybe they'll bring this trio of heat-beaters to colder climes when summer arrives…
Starbucks Joining the B'fast Sandwich Club
Not to be elbowed out of the grab-and-go Breakfast market, Starbucks is now offering A Bacon, Egg and Gouda Cheese Breakfast Sandwich. If that sounds like too much first thin g in the morning, there's also a 'conventional' Sausage, Cheddar Cheese and Egg Sandwich. Both sammies are apparently being served on Ciabatta Buns. Nice.
BK piques Asian Palate with Shanghai Whopper
Burger King India has unveiled a new Shanghai Whopper. It's described as a Whopper-sized Patty and Bun featuring either a Chicken, Veggie, or Mutton Patty, topped with Tomato, Red Onion, Cheese, a Cheesy Jalapeño Sauce, Crispy Fried Chow Mien, and Kung Pao sauce. Kung Pao and Chow Mien are not traditionally paired, but neither are they traditional Indian fare. Where the Jalapeños come in remains unclear… Still, I wouldn't mind trying one. With Chicken.
Quiznos swears by Seafood for Lent
Quizno's is offering a trio of Lent-friendly Seafood treats this month. The headliner is a Lobster and Seafood Scampi Bake (toasted Sandwich). Also available, a Lobster and Seafood cold Sub and a Lobster and Seafood Salad Bowl with Buttermilk Ranch Dressing. The Sandwiches are available on any of Quizno's signature Breads.
McD's testing BBQ Ribs,'French' Pastry counter
McD's is testing bone-in BBQ Ribs in the Czech Republic. A nice, classy move – no ersatz boneless Pork Rib Patties for them!
Meanwhile… The Fast Food Giant is also floating a McD's outlet in New York City featuring a full-service, 'French'-style Pastry Counter. Premium location, premium fare, premium prices, one imagines.
And that's the cream of the Fast Food news crop for this week. Tune in again next Friday for our next Roundup!
~ Maggie J.