It's unofficially Spicy Treats Week at the Fast Food Roundup. Lots of new hot stuff from the major players as they struggle to maintain their respective places in their ever-more-crowded market niche. Without further ado, I present my personal selections of the best-of-the-best from this week…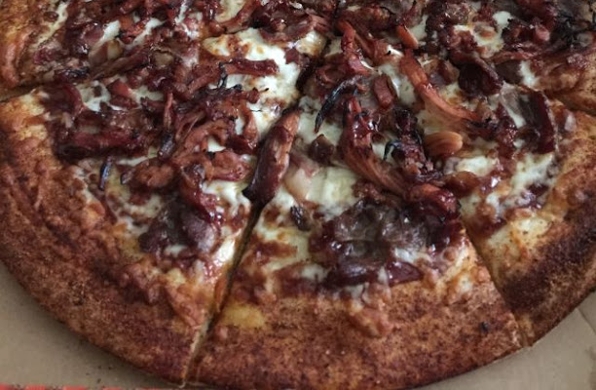 Little Caesar's new Smokehouse Pizza. My mouth is watering…
Baseball stadium débuts Double-Wrapped Dog
Surprise Stadium, the Spring Training home for the Texas Rangers and Kansas City Royals, has a pre-season contender for the Crazy Stadium Food Sweepstakes: The Triple Play Hot Dog., Or is it a Bacon Burger? Or…? What it is is a jumbo Hot Dog Wrapped in a Burger Patty wrapped in Bacon. And you can get Nacho Cheese Sauce, on request. That's right. Perfect for the diner who can't make up his or her mind. It's just a hair under 900 Calories before adding the Sauce…
Arby's new City Sandwich…
If you're an Arby's fan (and I know I am!), you've hard of the chain's new signature Cities Sandwiches. To the existing Fire Roasted Philly and Double Stack New York Reuben they've added a new Chicago-Style Beef Dip. The big sammy features a generous stack of Arby's thin-sliced Roast Beef topped with Banana Peppers, fire-roasted Red and Yellow peppers, Italian Seasoning and Swiss Cheese on a toasted sub roll with a pot of jus on the side for dipping. That's a mouthful!
Little Caesar's adds Smokehouse Pizza
Little Caesar's has added a new Smokehouse Pizza to its menu for a limited time, If you buy enough of them, the Smokehouse may become a permanent resident. The hearty pie starts with a Smoke-spice dusted crust and is topped with Mozzarella and Muenster Cheeses, topped with Beef Brisket, Pulled Pork, Applewood-smoked Bacon and Barbecue Sauce. I like the idea. I'm game to try it. It looks really… smoky.
Wendy's new Ranch Fries and Sriracha Fries
Wendy's got on the Sriracha bandwagon a few weeks ago with a spicy Burger. Now, it's got Sriracha Fries to go with.  Not to be outdone by itself, the chain has also introduced new Ranch Fries. I'm intrigued by the Ranch Fries: I've actually voluntarily, dipped Fried in Ranch Dressing before, just to see… and  it was good! But the Wendy's version is topped with crispy Bacon chunks!
And there you have it, for this week…
Folks have asked me if I report all the fast Food news each week. I answer: That would be almost impossible! So many and varied are the announcements by the Fast Food chains – in their quest to increase or just maintain their share of the over-crowded market niche – that I'd have to start another blog to do the topic justice! I prefer to survey, select and present the best of the best. Until next week…
– M.