Here we go… The Fall Flavour Madness plot thickens! KFC returns to Celebrity Colonels to plug the return of two former menu favourites. Chipotle discontinues its much-hyped Choriso. Arby's reveals its Fall specials and… Ever wonder why Papa John's packs a Pepperoncino with every Pie?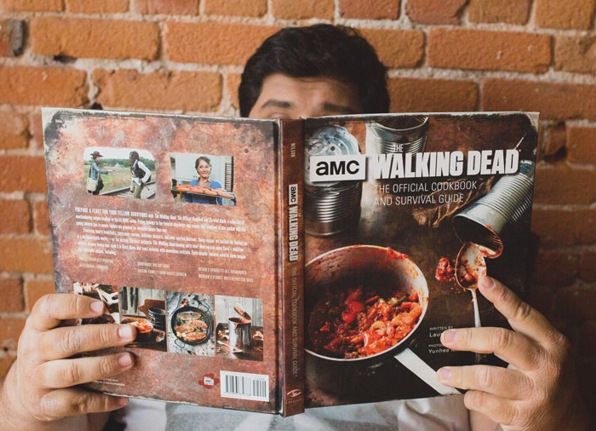 Not Fast Food, but definitely Take-out…
Starbucks Bucks the Fall Pumpkin Spice 'Trend'…
Pumpkin Spice flavours are everywhere, as has become standard for Fall, these past few years. But Starbucks has come up with a truly creative way to elevate its profile above the competition. It's offering a Maple Pecan Latté for those Premium Coffee lovers who want a break from Pumpkin Spice! What next?
Chipotle discontinues Chorizo
Chipotle will soon no longer offer Chorizo Sausage, saying it's new Queso Sauce is taking its place on the front lines at the chain. That's the official line, anyway. Industry observers say sales of Choriso have been 'lacklustre' and had previously predicted the ingredient's disappearance from Chipotle's menu. At the same time, the Queso Sauce has drawn mixed reviews, at best, with some reviewers complaining it tastes gritty…
AMC Channel announces Walking Dead Cookbook…
To promote the start of the 8th season of its hit series The Walking Dead next month, AMC has announced it will release an official The Walking Dead Cookbook and Survival Guide at the same time. No, it's not about cooking Zombies. it's about recipes from the show, like Deer Stew and Carol Pelletier's Cookies. There are also some handy for the survivor on the move. Not exactly Fast Food, but definitely take-out.
Ever wonder why Papa John's includes a Pepperoncini in every box?
It goes all the way back to the beginning when 'Papa' John Schattner was working as a dishwasher at a central Indiana Pub that did that. When he started his Pizza empire, John just kept up the tradition. Today, it is one thing that sets apart a Papa John's Pie from all the rest. No other major chain drops a Pepper. Papa John's spokespeople suggest squeezing the Pepperoncini to distribuite its juice – and heat- evenly over the pie…
KFC returns to Celebrity Colonels to bring back Old faves…
KFC has introduced a new Celebrity Colonel to host the return of two previous limited-time menu items that folk really liked, especially in certain parts of the country. Georgia Gold and Nashville Hot flavours are now available again in Extra Crispy Tenders, Chicken Littles, and Extra Crispy Fried Chicken. And he celeb Colonel? This time it's Ray Liotta! Watch the new TV spot starring the goodfella, here…
Arby's celebrates Fall with a new Cookie Butter Shake…
It is what it says. The guys who pride themselves as being the Meat Masters of their industry have taken a break from promos like pop-up Smoked Turkey Legs and so on to get on the Cookie Butter flavour bandwagon. Well, it's not as 'everywhere' as Pumpkin Spice and Maple for Fall…
…And launches another limited-time Sandwich
This time it's a Chicken, Pepperoni and Parm bunwich. It features 'crispy-fried buttermilk chicken filet topped with roasted garlic marinara, slices of pepperoni, and fresh mozzarella on a toasted, star-cut bun'. Sounds good. The official portrait photo looks really good. We'll see…
7-Eleven launches 'Locally Made' fresh meals in test markets
The convenience chain has been trying to get into the take-out food business seriously for years and never really found its voice through pre-made, thin sandwiches, et al. Now, it's offering a choice of 14 'locally prepared' fresh meals at all of its stores in Dallas/Fort Worth and participating outlets in Los Angeles, CA, New York City, and Washington, D.C. The meals span cuisines from Home-style to Italian to Asian, and Mexican. We'll see if the idea flies….
And that's the cream of the Fast Food crop for this week. Enjoy!
~ Maggie J.