Those in the know say no meal in Belgium is complete without an appropriate bread. Belgians also have a sandwich addiction: Supermarket deli sections brim with with prepared spreads and sandwich ingredients. The Belgian bread experience starts with Breakfast and runs all day…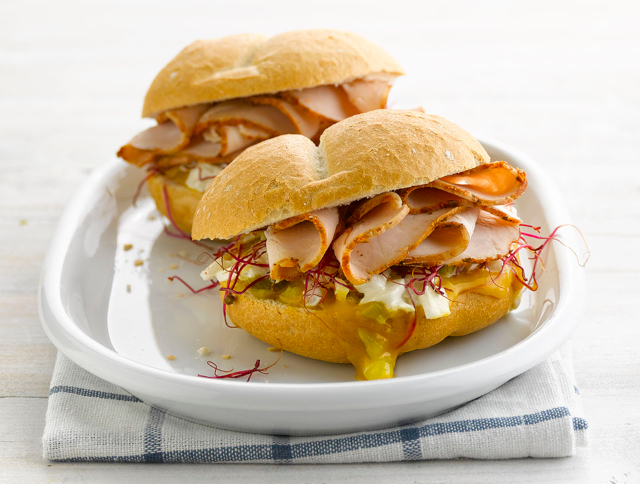 The world-famous Belgian Pistolet Sandwich, named for the roll it's made on.
It's true that Belgium has its share of 'imported' breads – largely from France and Germany. But those all take second place on Belgian tables in favour of the country's own traditional styles. I've just learned that Belgians enjoy a fourth meal every day – evening tea. And they even have a special bread for that. Another hallmark of Belgian bread is sweetness. Many of the country's most beloved breads are on the sweet side, containing sugar and/or molasses.
On our menu today
Cramique: Classic Belgian Raisin Bread. It's a national favourite for breakfast (see photo, top of page). This 'lean' Brioche uses relatively small amounts of milk, eggs, butter and sugar, and a fairly generous dose of raisins. It's made in small, fairly dense loaves. Folks even use it for toast and to make sandwiches.
Craquelin: A richer Brioche. Made both as loaves and buns. This one has tons of butter and eggs, rather a lot of yeast, almond extract – and orange-infused sugar lumps! The recipe – specifically the dough prep – takes some time and care. But it's worth it!
Verviers: Another fairly rich Brioche, with average amounts of milk, eggs, butter and sugar. Named after the city where it originated.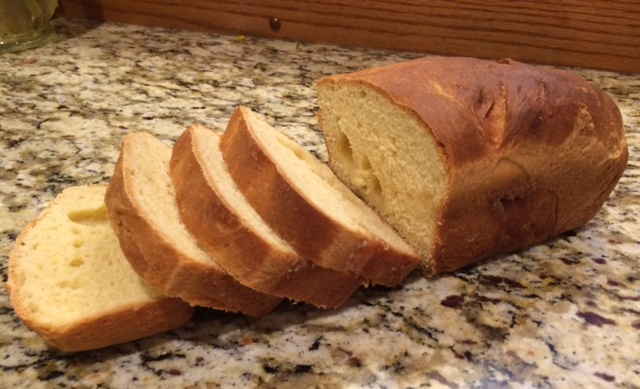 This one has sugar cubes rolled and folded into the dough just before baking. It's usually made in round loaves, hand-formed or in round cake pans.
Belgian Molasses Bread: A classic all-purpose bread with no eggs or sugar to sweeten; just molasses. This loaf contrasts with the foregoing breads in its light texture with a fine crumb, and the unmistakable tang of molasses.
Belgian Beer Bread: A similar name, but not at all similar in character to the preceding loaf! This is a quick bread (baking powder leavened)  and requires only a few ingredients in its simplest form: flour, baking powder, salt, sugar and beer – and melted butter to pour on top before baking.
The kind of beer and sweetener you use will determine its flavour and colour. You can use plain white sugar and pale ale or lager for a light-coloured hoppy bread, or molasses and dark beer for something very different, but just as delicious in its own way! Some recipes for the dark variant also specify rolled oats. Devotées of Belgian Beer Bread say there's nothing else like it for making Warm Egg Salad sandwiches!
Pistolet: A classic Belgian style. The name means 'little pistol', for reasons lost to history. They're little ultra-crusty round rolls with very soft interiors, and are prized for sandwiches and desserts. These ubiquitous rolls call for both wheat and rye flour, olive oil, sugar, yeast, salt and dried onion. They take up to 12 hours to rise, so they're an all-day project. 'Pistolet' is also the name of a traditional Belgian Sandwich made on the roll, with any number of different fillings, but most popularly with ham and cheese, mayo, pickles and greens. If you spent two weeks in Belgium, you could eat a different Pistolet every day for lunch and still only scratch the surface!
Classically Belgian
The foregoing breads are classically Belgian, and are eaten at all meals. Some are served with sweet spreads or fillings as snacks, tea treats or desserts. Tomorrow, we'll take a closer look at Belgian sweets, and delve into the world of signature Belgian beverages…
~ Maggie J.