Oh, man! Oh, man! Oh, man! This is the lowest trick ever! Apparently, many foodies and wannabes – and outright poseurs – invite friends and folks they want to impress to their homes for a 'home-made' gourmet dinner – which they actually buy-in from top-notch caterers!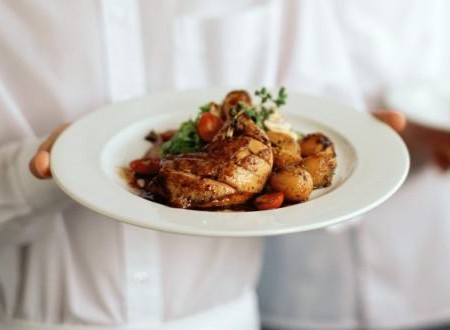 Is it home-made – or bought from a caterer?
Even worse are blog posts about how to successfully camouflage the food so it passes as your own. What the **** ?
And what if your guests discover your dirty little secret? How embarrassing is that going to be?
Keep it real!
In spite of the temptation to cheat, always make your own dinner party food. The more you cook, the better you'll get at it!
Start with simple dishes and work up to more complicated and exotic fare.
A good starter menu might include Boiled Rice* (make it with Chicken Stock instead of plain water, add Green Peas, Corn Kernels and Curry Powder to taste), Braised Beef or Pork (Asian or Southwestern flavours work well. Make a savoury sauce from the brazing liquid), and Steamed Veggies. Broccoli, Bok Choy and Mixed Root Veggies (Carrots, Parsnips and Cauliflower) all work well. Top the Veggies with a home-made Compound Butter for extra flare!
The best overall rule of thumb is to go with dishes that you comfortable cooking and which turn out well for you consistently.
Sound like an idea for a reality TV show?
Well, it already is! On Food Network Canada, we've got an on-again, off-again series called Dinner Party Wars, in which two host/chefs watch (on surveillance cameras) a series of dinner parties, each one given by one of three couples, for the other two. They all cook, they all eat each other's cooking, and at the end, the hosts pick a winner who gets a nice kitchen improvement prize. Of course, there's a lot of hilarity (both intentional and unintentional) along the way, especially when a guest or a party host has too much to drink. Which happens more often than you'd think!
And that, by the way, is another good rule of thumb when giving dinner parties: Don't Drink and Cook! Have a nice bottle of your favourite quaff resting in the fridge for after, so you can congratulate yourself properly on a job well done, once all the courses have been presented and all your thoroughly satisfied guests have drifted off home on a cloud of post-prandial bliss…
~ Maggie J.
* Boiled Rice My Way
To serve four:
To 2 1/2 cups boiling Chicken Stock, add 1/2 cup frozen Green Peas and 1/2 cup frozen Corn Kernels, and one two teaspoons of Yellow Curry or Garam Masala Powder (or to taste). Return to a rolling boil. Add one cup Dry White Rice and stir well. Place lid on pot and turn heat down to very low. Let simmer for 20-30 minutes, until all the liquid has been absorbed and the Rice is tender. Fluff with a fork just before serving.