French Onion Soup is an undisputed classic – and still a mainstay of many fine dining and family restaurant menus. Its complex, delicate sweet-savoury flavour excites our umami sense like no other.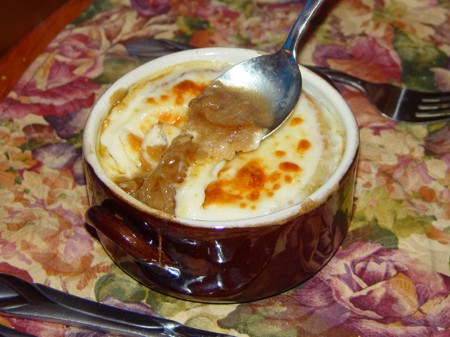 Perhaps because it is such a treat and so unique a flavour experience, many cooks assume good Onion Soup is something that takes hours of preparation and leverages every trick in the soup chef's pocket. That's just not true!
The secret is simple: Patience.
Onions, onions and more onions
For enough soup to serve six, start with at least six medium white or red onions, peeled, halved and thinly sliced. Place them in a large saucepan or braising pan which has been preheated to medium low with three tablespoons of Olive Oil or Butter.
For those who might wonder about the wisdom of using Olive Oil or Butter, I want to stress that low heat must be used in the browning of the onions. We don't want to sauté or fry them; just wilt them and bring out their moisture so they can brown gently and become tender and and saucy. And they will wilt! Expect your onions to reduce in overall volume by three quarters or more by the time they have browned thoroughly. And browning properly may take up to half an hour. This is the real secret of good, rich Onion Soup!
To the browned onions, add a splash of Sherry, Madeira or Tawny Port to fortify and enrich the flavour further. The French insist on adding Brandy for a truly authentic Onion Soup. Truth to tell, it's entirely up to you. But some kind of fortified wine or spirit is considered essential for real Onion Soup.  Next, add three or four cups of Chicken or Beef Stock. and set the soup to simmer gently for another 20 or 30 minutes.
Just before preparing for service, taste the soup for salt and pepper and adjust if necessary.
The presentation
To serve, ladle the soup into individual bowls, making sure to distribute the onions equally between all servings. Top with croutons (ideally, toasted slices of French Baguette or other round-shaped bread topped with Rosemary, Olive Oil or Butter and Grated Gruyere Cheese), and toast the assembled bowls under the broiler just until the cheese bubbles and turns golden brown.
This classic Onion Soup can stand as a luncheon main, or as a supper starter for a wide variety of following entrés.
Bon appétit!
~ Maggie J.