What's more representative of good old Western comfort food than the classic Meatloaf? (Maybe Mac and Cheese, but we've already done that!) But… With a few simple embellishments, you can create a great go-to ground meat mix that can be customized into a different entrée for every night of the week.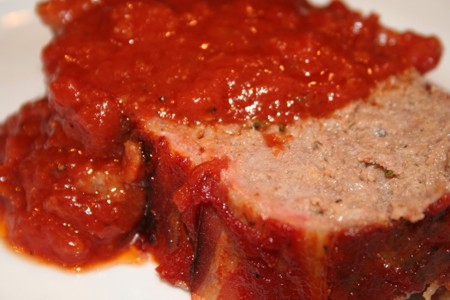 Ground Beef, Ground Veal, Ground Pork, Ground Turkey or Chicken or any fowl, for that matter… All can be part of your universal ground meat mix. I prefer to go the old, traditional Italian route and base mine on Ground Beef and Pork. It's a little fattier, overall, than your basic Lean Ground beef, but it cooks up juicier and more flavourful, and tends to form into more cohesive patties or cakes or loaves.
Here's the basic recipe:
1 lb. (500 g) Ground Beef or Veal
1 lb. (500 g) Ground Pork
2 tsp. (10 ml) Dried Parsley
2 tsp. (10 ml) Dried Oregano Leaves
1 tsp. (5 ml) Dried Rosemary
1 tbsp. (15 ml) Fresh Finely-chopped Garlic
1 tsp. (5 ml) Salt
1 tsp. (10 ml) Fresh Ground Black Pepper
4 oz. (125 ml) Milk
4 oz. (125 ml) Fine-textured Dried Bread Crumbs
Add the Crumbs to the Milk and mix well with a fork. Let stand 5-10 min. to let the Crumbs absorb all of the Milk.
Add the Crumb mixture and the other ingredients to the meat. Mix well with your hands. Or, if you like finer texture in your ground meat recipes, place all together in the bowl of your stand mixer and blend well using the Mixing Paddle attachment.
If you make a large batch, you can divide it into meal-sized portions at this point and freeze them separately in freezer-duty zipper bags.
If you are going to use some or all of the mixture, proceed directly to what we in the foodservice biz call 'prep'.
Many different meals start in the same place
Okay… Here are a few of my go-to entrées that start with our seasoned ground meat mixture:
Meat Balls: Nothing could be simpler! Add some Red Pepper Flakes to taste and, if you wish, more Oregano and so Form balls any size you like by rolling between your palms. Cook directly in your pasta sauce or bake off in the oven for half an hour or so. You can bake off a large batch of Meatballs all at once and freeze them in separate, meal-sized portions. Cuts prep time for future Pasta dinners! Drop frozen balls right into the pasta sauce and simer for 20-30 minutes, until heated through.
Burgers: I like to add some finely-chopped Sweet Onion and a little Chili Powder, to taste. I also like to put in a dash of Worcestershire, or Balsamic Vinegar, or Soy Sauce (whatever you like!) and mix well once more before forming into patties.
Meat Loaf: I generally go with the Meat Ball recipe forming at least 1 lb (500 g) of meat mixture into a nice loaf, or press into a 1.5 lb (750 g) loaf pan, and top with whatever Tomato Product I have on hand. You can use Ketchup, Barbeque Sauce, Pasta Sauce – whatever says 'Meat Loaf' to you! bake for an hour uncovered in a medium oven (350 F) and allow to cool a little before slicing.
Kibbee: That's savoury ground meat on a stick, grilled over charcoal, if you haven't tried it yet… To 1 lb. (500 g) of ground meat mixture, add the following:
1/2 tsp. (3 ml) Ground Cinnamon
1/2 tsp. (3 ml) Ground Allspice
1 tsp. (5 ml) Dried Mint
2 tbsp. (30 ml) Fresh Chopped Parsley
1 Finely-minced Medium Onion
2 tbsp. (30 ml) Ground Pine Nuts, Walnuts or Almonds
Also… And this is important! pre-soak 1/2 cup (125 ml) Bulgar Wheat in 1/2 cup (125 ml) boiling Water for about 15 minutes, or until the Bulgar has soaked up a good amount of the water and is starting to soften up.
Drain and add the Bulgar kernels to the meat and other ingredients and process, until very smooth and completely blended, in a food processor.
You can now use a small ice cream scoop (or a larger one, id you like!) to measure out equal portions of the mixture which you will them form in oval balls round bamboo Skewers. Bake in the oven at 350 – 375 F or grill until the meat is no longer pink inside.
This Lebanese specialty is usually served over Rice with Pita Bread,Tabbouleh salad and Hommus on the side.
And that's not to mention Taco filling, Chili and all those others great dishes you'd make more often if the work was already half done for you!
I'm sure you can think of lots of ways to use your go-to ground meat mixture…
So… 'go-to' it and enjoy!
~ Maggie J.