Fall is here and the days are getting shorter with a vengeance. Temperatures are also dropping quickly and that means it's time to pull all of those cold weather favourites out of the recipe box. My cold-weather menu is quite varied, but it does rely heavily on my good, old slow cooker!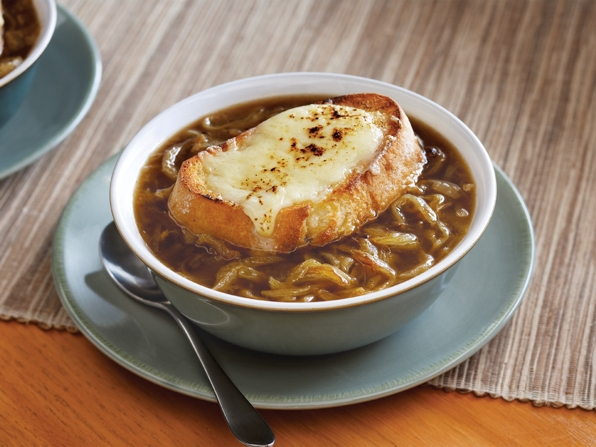 French Onion Soup: Just one of many cold weather treats you can whip up
with minimum prep and a little patience…
Let's start with the obvious…
Toasted Cheese, Baked Beans and Mac and Cheese. My recipes are easy and rich.
The Toasted Cheese can be elevated in many ways, depending on what you have at hand and what you like with your Cheese!
The Mac and Cheese can, likewise, be amplified with additions; most commonly Ham Chunks, Broccoli Florets, Onions and Mushrooms.
The Baked Beans are old-fashioned style,with Molasses and Brown Sugar and Mustard. They simmer 6 to 8 hours in your slow cooker.
More Slow Cooker faves…
My Jambalaya is a really fun cold weather dish, even if it does come from New Orleans! There's Rice and Beans and Sausage and lots of other good thing. Plus a little zip of heat, depending on how much hot stuff you put in…
Boef Bourgignon is a French classic that usually simmers all day long on the stove. mine simmers in the slow cooker and retains all its flavour and character.
Beef Stroganoff is a Russian take on Beef Stew with a creamy sauce. Serve it on noodles of your choice.
Hungarian Goulash is an eastern European classic. Add as much Paprika as you want! Simmer it in your slow cooker until the meat cubes fall apart when you touch them with your fork.
Bolognaise Sauce is an Italian favourite and, in spite of what you may think, it's more than just Marinara with crumbled ground Meat in it! Use it on any kind of Pasta you like or slap it on a Bun for Sloppy Joes with a Mediterranean twist.
And…
My all-time fave in the slow cooker is Mom's Chili! Like the baked beans, it's a simple dish to prepare, then just put it in the slow cooker and let it go…
And don't forget Soups!
Chicken Noodle Soup is perhaps the original, classic cold weather meal. Serve it with Toasted Cheese for a really hearty repast!
Minestrone Soup is an Italian Classic and one of my faves. Prep it in the morning and let it simmer all day. Serve with Garlic Toast and Panzanella Salad for supper.
Split Pea Soup is a thick, hearty Quebecois favourite. One of my go-to soup-as-a-meal dishes when outdoor activities are in the schedule. Make a big pot and freeze some!
French Onion Soup us quick and easy and a flavour experience all its own. Make it in a dutch over on large sauce pan. Serve with piece of Toast smothered in Melted Cheese!
Reach out and experiment!
There are lots more cold weather beaters you can try! Just search for "Soups" or "Slow Cooker" on this website and scroll through pages and pages of ideas…
Cheers!
~ Maggie J.