Today is Food Day In Canada! I was unaware of this annual observance until this year, but it's been around since 2003. Founder Anita Stewart says it's all about spreading the gospel of Canadian-grown food and celebrating Canadian food producers, Chefs and researchers…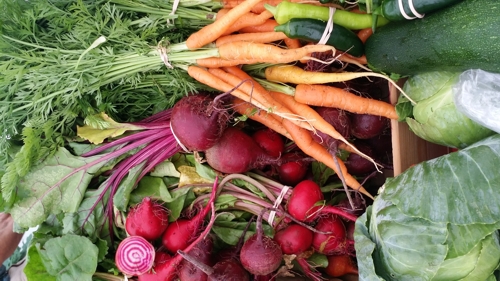 Canada's Bounty. We celebrate it along with those who make it possible
every summer on Food Day Canada
Stewart explains, Food Day Canada, "…began […] as The World's Longest Barbecue, a massive, Canada-wide response to the sanction of Canadian beef exports by our largest trading partner and the dramatic hardship it imposed on our agricultural community." It's held every summer on the Saturday of the August 1st holiday weekend. Now, we gather to celebrate Canadian cuisine and Canadian food stars – from farmers and fishers to Chefs and food researchers to all the home cooks out there.
How do you get involved?
Stewart enthuses: "You can head to one of our enthusiastic Food Day Canada restaurants to enjoy an unequalled repast or you can plan your own party!  Absolutely Anywhere! Paddle to a distant shore to light a campfire…barbecue some fish …sweep off the deck for a neighbourhood supper… dig a roasting pit … build an oven … fire up the grill … and use only Canadian ingredients to create a feast or a simple dinner that honours our extraordinary culinary history and points the way to the future, together. And never, ever be afraid to haul out your soapbox to tell retailers to provide more Canadian ingredients, with hopefully less packaging, so you can eat this way all year round!"
You can access a wealth of all-Canadian recipes at Food Day Canada's Cook Like A Canadian website.
You can get an all-Canadian shopping list at the Shop Like A Canadian website.
Whew!
That sounds like a tall order. But it all boils down to enjoying traditional Canadian foods with friends and family and giving thanks to those who make it possible.
Amen.
~Maggie J.