It's an epdemic! Either that, or the longing for Spring just brings out the nuttiness in people – a phenomenon expressed in the culinary community as a recent explosion in new super-spicy Chili Pepper menu items. Now, it's Mexican Pizza… From a Tex-Mex Pizza Joint!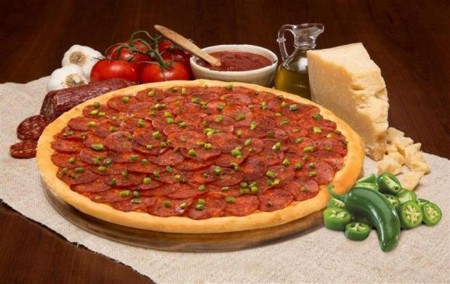 That's right… Pizza. Remember that Habanero-infused foot-long Hot Dog we featured in a recent post about new novelty offerings at Arizona Diamondbacks home games? Step sideways a little and you'll arrive at the habanereo-infused Pepperoni being pedaled by a certain Southwestern U.S. Pizza Chain. Pizza Patrón's new Mexi-pie is covered thickly with slices of the ultra-peppery sausage and topped with diced fresh Jalapenos. No kidding. Well, it still looks like a Pizza…
Anyway…
We see this as an example of two extreme menu trends covered in recent posts here at the FFB.
First, there are the nutty Hot Pepper 'challenge' dishes that have come out this winter, from a volcanic Chili Bowl to a Wing Sauce that sent its creator to hospital, to a XXX Burger that not one in fifty challengers' has been able to eat all the way through.
The upshot of all this Hot Pepper Madness is the burning question: Do we really need even hotter pepper?
Second, this Mexi-pie thing just reeks of fast-service sector menu madness – vendors going to ridiculous extremes to differentiate their products from the competition's. The Pizza niche is just as over-crowded as the Burger-and-Dig niche. Hot Pepper offerings
But there's more!
If the folks at Pizza Patrón hoped to get themselves noticed, they certainly succeeded. But not on account of the spiciness of their pie. Would a Mexi-pie by any other name taste the same? Probably. But it's the name of the thing that's got Pizza Patrón more prime media coverage than they could ever afford to buy.
They call it 'La Chingona', which translates loosely as 'The Really Hot Chick' – what they call a 'Fox' in some parts of the English-speaking world. Trouble is, in the U.S. Southwest, there's a naughty overtone to the term. And that's caused some broadcasters and print media to reject ads for the pie, on the grounds that the name will offend their readers – largely Spanish-speakers of Mexican extraction.
And here's the kicker…
La Chingona doesn't appear on the online menu at the chain's website. No mention whatsoever. Hmm… Could it all be a set-up by Pizza Patrón just to generate free publicity? Hype the thing just for the sake of the chatter and then appear to 'do the right thing' by withdrawing it from sale?
One way or the other The Marketing Moguls on Madison Ave. are probably raising a shot of Tequila to the old Patrón as we write…
~ Maggie J.