This edition, it's bevs and sweets time at Fast Food Week. Names such as COSTCO, Dunkin's, Snoop Dogg, Arnold Palmer, Starbuck's, Hershey's, and Skittles are showing up. Subway's popular Footlong Pass is returning to the the home of the long Buns… And that's just the start!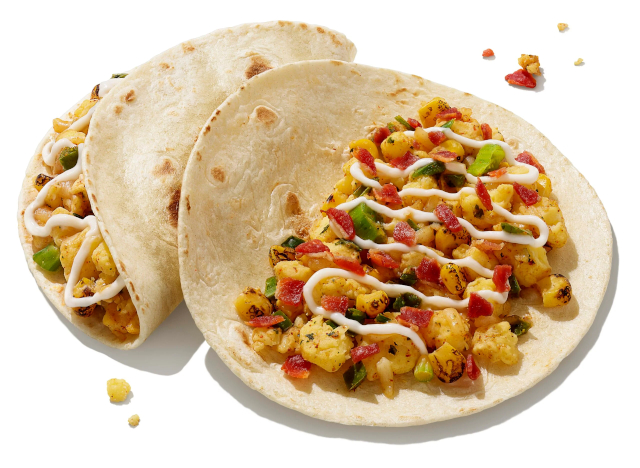 Dunkin Breakfast Tacos: Filling in the grid…
COSTCO brings back huge pies
Haven't they had these before? If not at COSTCO, then who was it? Anyway, COSTCO is binging back huge, almost-5-pound pies. Perfect for the binge-eating choco- and/or Peanut Butter-holic. Officially described as, "a buttery graham cracker crust topped with whipped peanut butter filling and lightly whipped chocolate mousse," the thing is basically a gigantic pie-sized ripoff of Reese's original Peanut Butter Cups.
Subway Footlong passes are back!
Consult the Subway website for details. But do it quick, because those lucky enough to get one will become members of an exclusive club that enables them to access discounts on footlong subs…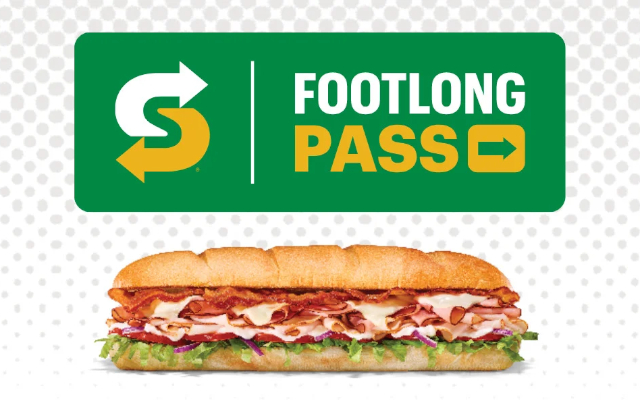 It's baaaack! First 10,000 sold out; 240,000 more to go…
…"[E]veryday value and, of course, exclusive perks for loyalty members," said Barb Millette, Senior Director of Loyalty & Gift Cards at Subway. "The first 10,000 passes sold out in a matter of hours, and while we have 250,000 available this time around, we expect them to go very quickly.
Dunkin débuts Breakfast Tacos
The 'Breakfast Tacos' grid on the big, master Fast Food menu the sky is filling in quick with the announcement of yet another player offering the popular choice. Dunkin BTs feature scrambled eggs, sharp white cheddar cheese, fire-roasted corn, and a drizzle of tangy lime crema. There's also a a Bacon version with crispy bacon crumble on top. Both come on a warmed flour tortilla.
Snoop Dogg
Snoop is into a lot of different things these days. Now, he's launched his own line of new canned coffees, a partnership with with local coffee entrepreneur Michael Riady.
It's described as: "a premium lifestyle coffee brand created for and inspired by the next generation of entrepreneurs and innovators," according to the brand's press release. "My relationship with coffee goes way back," Dogg recalls. … "[The] many long nights in the studio making hit after hit, coffee provided the fuel which kept us going."
Arnold Palmer's new 'Space Tea'
The headline blares: "Brings Arnold Palmer into the New Age of Functional Mushrooms'! As opposed to what? Disfunctional mushrooms? The last time I heard anybody discussing how mushrooms function, and I heard the word 'space' in the same sentence was back at a certain party in 1969, when a totally stoned out guy in the corner brought up the subject of 'magic' mushrooms. But that's got nothing to do with Armold Palmer's new tea. Gabriel Heymann says his tea is 'functional' in that it provides uplifting energy and mental clarity. Comes in original Watermelon and Mango along with Space Tea Zero (Calorie) Lemon, Hibiscus, and Matcha flavors.
Starbuck's asks the stars
A new menu of Starbuck's beverages features recommendations based on your astrologicval sign.
Visit StarbucksSignStars.com to get your daily horoscope and learn how the deal works. The new Horoscope APP will also tell you your fave colour, flower and beverage…
Skittles, Sour Patch face ingredient ban
Many of us will have heard about this ingredient – titaniujm dioxide – which is popular in the candy and cosmetic industries. It's famous for making products bright white and fabulous-looking a bill making its way through the California legislature would prohibit the sale, manufacture, and distribution of foods containing titanium dioxide, red dye 3, potassium bromate, propylparaben, and brominated vegetable oil. Brominated vegetable oil, potassium bromate and titanium dioxide are already banned in Europe, suspected of causing cancer.
Hershey's 'SHE IS' products
Hershey's is celebrating Women's Month with a special release of its SHE IS products – for the third year in a row. The especially curated shortlist of Hershey Milk Chocolate Bars features the SHE (IS) logo on the label along with a collage of uplifting adjectives devised by Girls on the Run.

The special bars are available are available U.S.-wide in eight unique wrappers in both a 1.55 oz standard bar and 4.4 oz XL bar, while supplies last. Visit hersheyland.com/hersheys-she to learn more about the SHE initiative and how to purchase a bar.
And that's the skinny…
… On what's going to be making some of us a little fatter between now and the official start of summer. See you back here in 7 for the next edition of Fast Food Week!
~ Maggie J.