It's coming on that time of year again. Hallowe'en is looming and we all have to make a fundamental decision. To Treat, or not to Treat. And the evidence has never weighed more heavily in favour of one of the those two choices…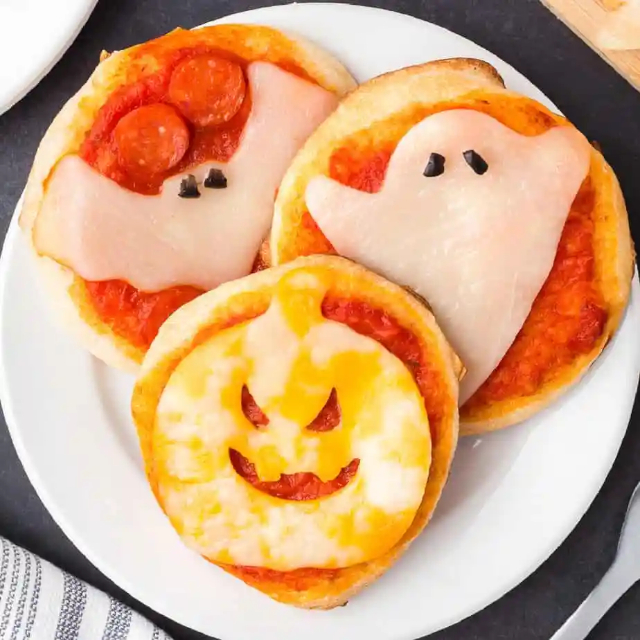 Hallowe'en Mini Pizzas: Perfect for your haunting-day house party, or as
a contribution to the community costume party down the street…
Decades ago, when I was just a little elementary school-age kid, there was only a couple of simple decisions parents had to make about Hallowe'en night. "What time do we take the kids out?" And. "How many streets do we do?"
Now-a-days, though, we have a far more-weighty issues to ponder. "Do we take the kids out at all?" And, "Do we put the porch light on and receive Trick-or-Treaters here at home?"
Not as simple as it might seem
The issues the annual haunting raise for families are multi-fold, touching on safety, health, finances and keeping the peace at home.
Sure. In the past, parents worried about tainted treats, bullying of unaccompanied little ones by older kids, the weather and, of course, the danger motorists posed for hyped-up children running willy-nilly all over the streets.
But now, post COVID, we find ourselves in a whole new, not-so-brave world.
Financial considerations
Not a week goes by that I don't see ugly stories come down the food sphere newswires about more and more folks relying on food banks, unable to afford current high supermarket prices. There are now more North Americans living below the poverty line than every before.
In such an environment, it doesn't make any sense at all to consider laying out anywhere from $20 to $50 for treats to give out kids at the door. Much less expenditures on decorations and costumes.
That one is not a tough thumbs-down to make.
Dangers still abound
The dangers to our children have not lessened since I was little. The dangers from vehicles and bullies and tainted candy still apply.
Thanks to global warming, the weather is a crap shoot mid-fall – where I live, anyway. Since the late 20-teens, the end of October has seen the whole range of temperatures, winds and precipitation. Now, I worry about icy streets, driveways and walkway. When I was a kid, the one thing that struck me about the weather was that we had more than I felt was our share of rainy Hallowe'ens. A minor annoyance, by comparison.
In fact – if the stories we hear about child abductions, mass shootings and other craziness are any indication – the world is a significantly more dangerous place today.
Liability issues
All parents were concerned about little visitor betting hurt while on their properties. Even back in the 50s and 60s. But folks were much less litigious back then. Now, people – maybe desperate for a windfall to solve their frightening financial problems – are prepared to sue anybody for anything.
The Food Service Sector sees it's own share of such damage claims, most of which seem frivolous to me. And other observers.
Nevertheless… With mountainous student loans that threaten to follow even well-off professionals to their graves, underwater mortgages and consumer credit rates at 25 percent or higher, a lawsuit over a kid's scraped knee can be one family's saviour and another's ruin in the same moment. The only ones who win are the lawyers.
The choice is ultimately yours
Our street was lit up like Christmas for Hallowe'en, with dozens of kids parading up and down for almost 2 hours straight. Some of the parents even got into the spirit, turning out for 'bodyguard duty' in costume. The biggest worry for parents was non-wrapped treats. But the world has changed.
Is it time to say goodby to house-to-house trick-or-treating for good?
Muse on that…
~ Maggie J.