There are laws mandating such corporate behaviour in the UK and elsewhere. But now, Hostess and 19 other leading snack and Fast Food food brands are pledging to stop targeting kids under age 13 in their advertising. U.S. nutrition advocates have been calling for such a move for ages…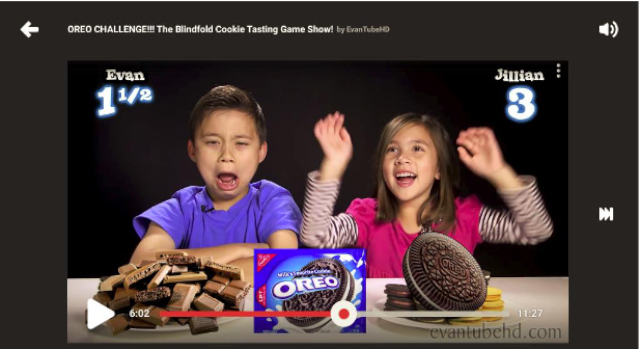 Exhibit A: An example of kid-targeted advertising by a CFBAI member from a
filing with the U.S. Federal Trade Commission claiming that members
of the group were not adhering to the CFBAI rules.
Exceptions to the rule – and there always are exceptions – include any products that comply fully with the Children's Food and Beverage Advertising Initiative's (CFBAI) Uniform Nutrition Criteria. Membership in the CFBAI is entirely voluntary, and is no doubt seen by the big brands as a demonstration of their commitment to protecting kids, and their desire to be seen as responsible traders and good corporate citizens. The CFBAI has been around for more than 20 years, already, "ensuring that foods in ads directed to children meet strict nutrition criteria," CFBAI President Maureen Enright says.
"We've experienced accelerated business growth over the past two years and are proud to join CFBAI," Dan O'Leary, chief growth officer of Hostess Brands, told reporters. "This pledge marks an important milestone in our transformation journey as we demonstrate our commitment to building a socially responsible snacking powerhouse."
Hostess timed its joining of CFBAI to coincide with the release late last year of a new national advertising campaign: "Live Your Mostess" which is, "focused on winning the hearts and minds of consumers by sparking uninhibited, child-like joy in adults."
High-toned associates
Hostess joins a whole raft of other major food makers in the CFBAI: American Licorice Co.; Burger King Corp.; Campbell Soup Co.; The Coca-Cola Co.; Conagra Brands, Inc.; Danone North America; Ferrero USA, Inc.; General Mills, Inc.; Hershey Co.; Kellogg Co.; Keurig Dr Pepper; The Kraft Heinz Co.; Mars, Inc.; McDonald's USA, LLC; Mondelez Global, LLC; Nestle USA; PepsiCo, Inc.; Post Foods, LLC; and Unilever USA. I'll bet you can't honestly claim that you've never bought something made by at least a few of those companies at one time or another.
So, yah: Even though you may never have been aware of the CFBAI before reading this post, it's been quietly ticking away in the background all along. But even so, there are still myriad complaints all the time, about ads that manipulate kids, either into buying stuff themselves or pestering their parents to shell out. That's called pester power, as most parents are painfully aware.
My take
Therefore, I have to wonder whether the CFBAI is really doing any good, overall. Is the solution to entice all the brands that market to kids to join up and adhere to the guidelines? If that's the only way the CFBAI is going to really make a difference, is it realistic? My answer, at least at this point is, I don't know. I'm not ready to commit to a firm opinion.
One reason for this ambivalence is my discovery of a copy, deposited online, of a request to the U.S. Federal Trade Commission (FTC) to investigate, 'Violations by Members of the Children's Food and Beverage Advertising Initiative of Pledges Not to Advertise Products to Children that Do Not Meet Uniform Nutrition Criteria'. That action, by the Campaign for a Commercial Free Childhood and Center for Digital Democracy, was filed with the Commission back in 2015, and I haven't been able to find any indication that the investigation was ever carried out. A 2018 document that appears to have been a report on the FTC response to the request is mysteriously missing, though its empty web page is still the first hit to come up when you Google 'CFBAI FTC complaint decision'.

I sure would like to see the results of such a probe, if it did indeed take place. And I sure would like to have a good reason to think that the CFBAI is more than a place for major brands to express good intentions which might not be backed up by good deeds.
Muse on that..
~ Maggie J.