One of the posts I read called Ramsay out for missing ingredients. Others questioned the modest volume of component foods he did include in the version of a Classic English Breakfast he tweeted. Lovers of the 'Full English' won't stand for fiddling or diddling with the classic formula!
Gordon Ramsay: uncrowned king of the culinary insult…
The Full English Breakfast in it's truly classic form includes an amazing selection of ingredients, the majority of them fried: at least 2 kinds of Sausage, 2 kinds of Bacon, Blood Sausage, Fried Potatoes, Grilled Tomatoes, Sautéed Mushrooms, Baked Beans, Toast and 2 Fried Eggs on top. Ramsay's 'Savoy' version comes up short in a number of ways:
But self-declared experts on the Classic Full English Breakfast quickly jumped in to 'correct' him: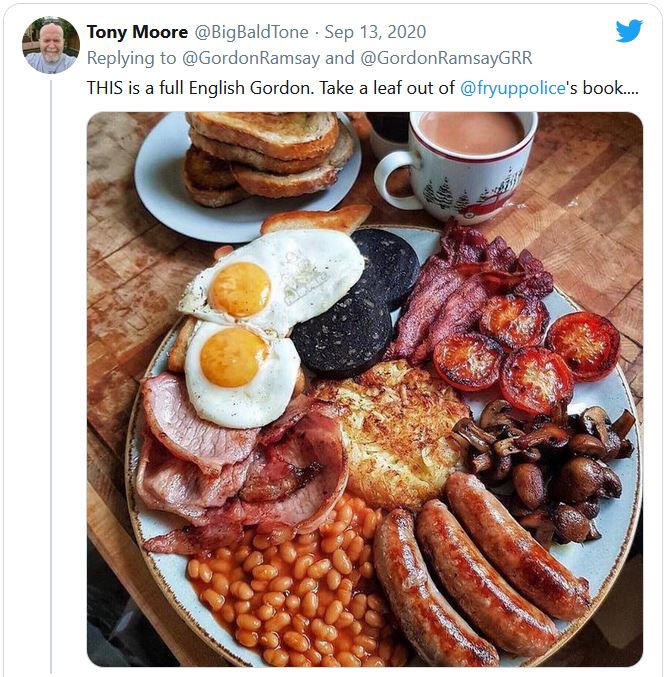 I won't get into sideshow quibbles about how the Breakfast platter shown directly above is meant for a single diner but, in truth, is probably enough to feed generously 4 normal adults. Leave that to the purists. But it's a great quick reference to where Ramsay's updated (?) version fails.
Damage control…
Ramsay – if he really cares what the average English Breakfast aficionado really thinks – hasn't bothered to address the criticism. But if it was my menu item and my rest, I'd have at least given the whole Tweet some deeper thought before sending it out. It would have been way easier to call his version of the 'Full English' a 'Leaner English' or 'Streamline English' Breakfast, and subtext it as 'an up-to-date version of the great old English Fry-Up' designed with the lighter or healthier eater in mind.
But Ramsay decided to go 'full Ramsay' and call it not only a 'Full English', but an 'amazing Full English'. Yes, the fans were amazed, alright, though not in a good way.
The moral of the story:
Another flamboyant Englishman, Oscar Wilde, once said, "There is only one thing worse than being talked about, and that is NOT being talked about." Except maybe in situations like this one…
~ Maggie J.