Featuring upgrades to existing deals, new menu item assignments, and seasonal items both complimentary and counterintuitive. Consensus: It's a great time to be in the market for hearty, piping hot, grab-and-go-food!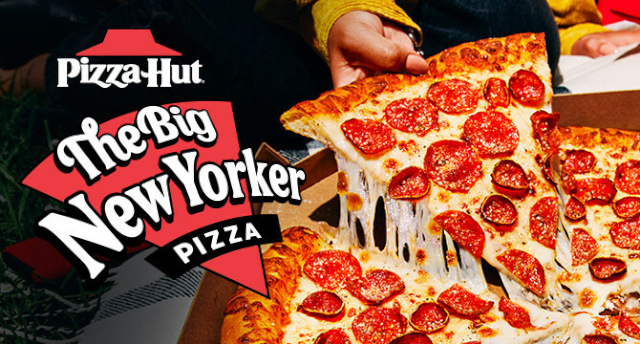 Pizza Hut brings back Big New Yorker
The oh-s0-memorable 16 in. monster returns just in time for Super Bowl Game Day appetites and as a tribute to the Big Apple. "The Big New Yorker was a huge hit when we launched it in 1999, setting the stage for future industry innovations like Pizza Hut Melts and Detroit-Style pizza," said Lindsay Morgan, Chief Marketing Officer at Pizza Hut. It comes with double pepperoni for just $13.99, starting February 1, 2023.
McDonald's Canada does spicy, waffly
Two popular specialties are back at McD's Canada for a limited time: Spicy Chicken McNuggets and Waffle Fries. The Nuggets have Habanero pepper in the breading while the fries are more like big, criss-cross Texas-cut thick potato chips. Great for dipping, with all that extra surface area!
Arby's updates 2-For $7 deal
It's out with the old selection: the previous selection, which included the Ranch 'N Swiss Roast Beef Sandwich, Buffalo Crispy Chicken Sandwich, and Mozzarella Sticks.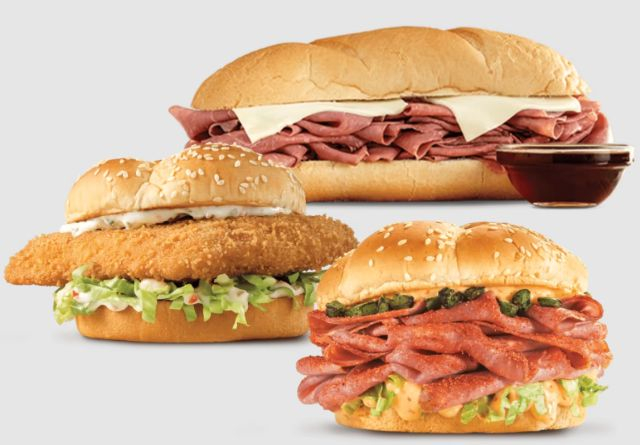 And in with the new: a Spicy Roast Beef sandwhich, a Crispy Fish sandwich; and a Classic French Dip & Swiss sandwich.
Burger King offers three International Chicken sammys
First came the BK Original Chicken Sandwich. Now three different Chickens, differentiated by international flavour, are available: Mexican Original, Italian Original and American Original. They're simply dressed classics, available across the U.S., for a limited time.
Toasted Baguette Sammys at Panera
There are three different Tosted Baguette sandwiches at Panera Bread: a Green Goddess Caprese Melt, a Pepperoni Mozzarella Melt; and a Smoky Buffalo Chicken Melt. All are built on Panera's own 10 in. baguette.
They're gearing up to pay off on a special  introductory game of thermometer roulette: If the temp in New York City, Boston, Denver, Washington, DC, or Chicago, hits or goes lower than 32 F any time between January 17, 2023 and January 22, 2023, Panera will be giving away free sammys.
Smashburger reprises Scorchin' Hot Crispy Chicken
The Scorchin' Hot Crispy Chicken Sandwich features a Nashville hot crispy-fried chicken filet served with spicy red pepper mayo and pickles on a toasted classic bun. It's now a permanent menu item. Special advance access for those ordering online through the Smashburger website or app.
Reese's hands down7 new ice cream treats
Mid winter may seem like an odd time to premiere new frozen desserts and snacks. But Reese's has done exactly that. They've just unveiled 7 new items, in fact…
… including: a Peanut Butter Sandwich; a Peanut Butter Light Ice Cream; a Chocolate Frozen Dairy Dessert; a Mini Pieces Light Ice Cream; a Peanut Butter Frozen Dairy Dessert Bar; Peanut Butter Cones; and a Peanut Butter Frozen Dessert Cup. At the usual major retailers across the U.S. now
Starry out to out-glitz Sprite
Starry is what Pepsico is calling its successor to Sierra Mist lemon-lime. It's aimed at Gen Z, "through advertising, can designs, and their slogan, 'Starry Hits Different'." Folks who've had a taste already, Starry is described as, "a stronger, more aromatic lime-lemon flavor [and] a little less sweet than Sprite." Available now in sugar sweetened or sugar-free.
And that's the skinny…
… On our top selections out of thousands of new and returning menu items coming and going through the Fast Food Universe lately. See you back here in 7 for the next edition of Fast Food Week!
~ Maggie J.