Popable, bounceable and crunchable, sweet and savoury, bite-sized treats rule the Fast Food Week summary of top new menu items this week. McDonald's, Taco Bell, Jack In The Box and even Costco are also making headlines with main menu items…
New Adult Happy Meal:: Taking one of the most nostalgic
McDonald's experiences and literally repackaging it…
Taco Bell calls for fan verdict
After a couple of spontaneous fan petitions calling the the return of cancelled menu faves, notable among them, the Mexican Pizza, Taco Bell is organizing an official contest of its own to determine which of 2 contenders will be brought back next.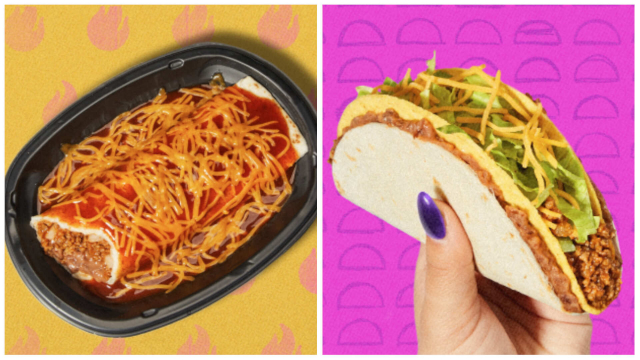 You can vote for either the Double Decker Taco or the Enchirito. But you must do so via the Bell's downloadble app and be a Taco Bell Rewards member and register your preference via the Taco Bell app.
'Big Kids' Happy Meal from McD's
Or, to put it another way, a Happy Meal for big kids (adults) who miss the fun. Comes in 2 versions: one featuring a Big Mac, the other a 10-Piece order of Chicken McNuggets. Both come with a medium drink and Fries – and a 'new' (adult-oriented?) Happy Meal toy.  For a limited time, starting October 3, at the counter, the drive-thru, by delivery and via on the McDonald's App, while supplies last.
"We're taking one of the most nostalgic McDonald's experiences and literally repackaging it in a new way that's hyper-relevant for our adult fans," says Tariq Hassan, McDonald's USA Chief Marketing and Customer Experience Officer.
Monster Tacos back at Jack In The Box
One reviewer calls them legendary. I don't know about that. But they are large. Jack's Monster Tacos are back for a limited time on National Taco Day, October 4, available through the 31st.
They were discontinued after a long run on the permanent menu in 2009, returned for a limited run in 2019, and are just coming around in the rotation again now. Who knows when they'll be back again? Halley's Comet or Old Faithful they are not, timing-wise…
Costco to hold line on Hot Dog Combo
Costco CFO, Richard Galanti, says $1.50 price tag of Costco's hot dog and drink combo will remain firm – for the time being, at least. It all depends on economic conditions, and what happens with food prices into the future. But Galanti says it's a trademark featured item on the Costco 'menu' that should not be fiddled with. A an fave folk's have promoted from  fad to legend. We'll see.
Smucker's launches Ham and Cheddar Bites
Two new Uncrustables bite-sized treats from Smucker's: Ham & Cheddar Bites and Turkey & Colby Jack Bites.
Fans will quickly remind you that Uncrustables are 2-3-bite treats of various fillings sheathed in bread rather than pastry pockets. They've been low-key but indispensable for break room vending machines to school lunch boxes for some time, now.
Heinz reprises 'Tomato Blood ' for Hallowe'en
It's good old Heinz can be counted to do-up any holiday right. Even Hallowe'en. Tomato Blood is probably the best condiment to accompany finger food heat-and-eat treats during the haunting season. Looks great on your party buffet: the distinctive upside-down squeeze bottle with the special, holiday label. A great conversation-starter!
Hostess pops out new Bouncers
They're merely mini-Twinkies, and they apparently do bounce when dropped on a table top. Actually, there are three of them, honouring three Hostess classics: Twinkies, Ding Dongs, and Donettes.
The Twinkies are original Vanilla, the Ding Dongs chocolate, and the Donettes cinnamon. It appears to be an open-ended release (i.e.- permanent?) aimed at TV bingers, l;unch boxes and pretty much any other kind of snacker with a sweet tooth.
Kellogg's releases new specialty cereal
The Elf On The Shelf line, is claimed to be the first that imparts a cooling sensation to the diner. Sounds like a snacking natural to me… Built on a creamy vanilla ice cream flavor base, the new cereal features frosted star pieces and mini marshmallows. Two flavour variants are on offer: Hot Cocoa and Sugar Cookie.
New OREO flavour for Fall
Did you notice? A month just went by without a new OREO flavour being announced. That's unusual, to say the least. Anyway…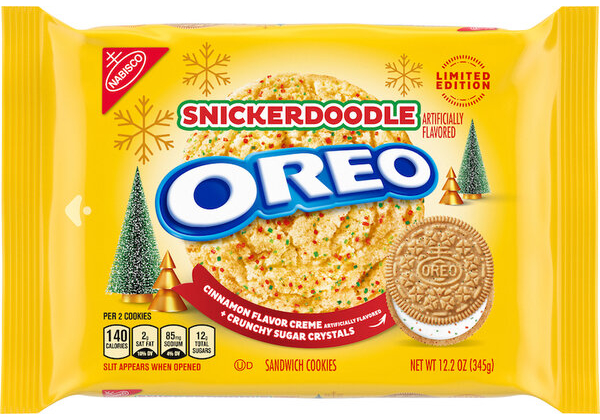 … Enter, Snickerdoodle, with Cinnamon-flavoured creme and crunchy sugar crystals. Available across the U.S., while supplies last. And there may yet be more 'Holiday Special' flavours.
And that's the skinny…
… On what's going to be making some of a little fatter through the coming year-end Holidays. See you back here in 7 for the next edition of Fast Food Week!
~ Maggie J.