What a big week on the Fast Food beat! Lots of unusual product announcements and some downright crazy ones. On the other hand, SONIC has a pretty good looking new Broccoli and Cheddar tot. Doritos is apparently launching hot sauces. And Cardi B is fronting a new vodka-infused whipped Cream…
The new Jollibee Chickenwitch: Another one, just like all the other
ones. Another combatant in the 'forever' Chicken Wars..
Jollibee flies into Chicken Sammy fray
The cray-popular Filipino food joint Jollibee is relatlively new to the U.S. and Canada, but it's Asian specialties are selling like hot… sauce. Now, the chain is offering a Jollibee Chickenwich and a Spicy Jollibee Chickenwich. A minor skirmish, by established standards, in the Chicken Wars. The basic version is described as a hand-breaded chicken breast fillet spread with umami mayo (no details on the sauce) and served on a toasted brioche bun.
Perdue rolls out ThanksNugets
ThanksNuggets are Turkey breast meat, in drumstick and turkey-shaped pieces, clad in a sweet potato breading. The special limited-time Thanksgiving treat comes in 22 oz. / 625 g bag, at most major supermarkets. Last year, the first release of ThanksNuggets sold out online in minutes.
SONIC goes rogue again: Broccoli Cheddar Tots
SONIC's new side looks like regular bite-sized Tater Tots on the outside, but is stuffed with bits of broccoli florets and cheddar cheese.
SONIC claims a large order gets you a full serving of vegetables, according to prevailing official dietary standards! Broccoli Cheddar Tots will be available at participating SONIC locations starting this Monday, September 27, through November 28.
Popeye's launches new fried pie
The Louisiana Kitchen has produced a new treat: A Blackberry Cheesecake Fried Pie. For dessert, or anytime. Looks really good in the official portrait.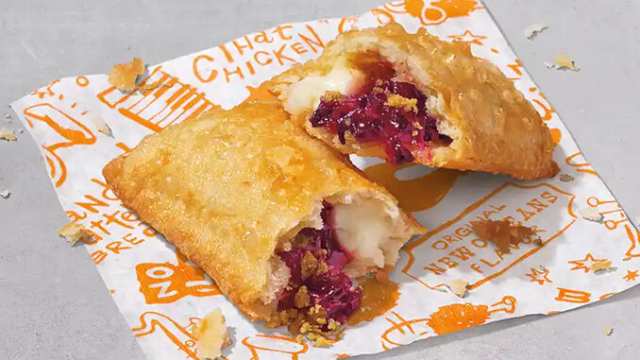 But how big is it, really? We're often disappointed by the tiny real-life size of dessert pies compared to their huge promo pix…
McDonald's brings back Pumpkin Cream Pie
Pumpkin Pie and cheese-and-vanilla flavoured fillings are encased in a baked (not fried) turnover-style pie crust. It's here for fall, for a limited-time only, of course.
Pepsi sodas go retro(grade)
Pepsi proudly (what are they thinking?) announces a new version of two old soda fountain faves: Cream Soda and Black Cherry. The trick that makes the Soda Shop Colas special?
They're made without uiniversally demonized high fructose corn syrup, but with real sugar, instead. Wait… 'Real sugar'? Yes, this appears to be the same sugar for which sweetened beverages – mainly sodas/soft drinks – have been condemned as major contributors to obesity and other heath scourges. Perhaps it's a good thing that they're available for a limited time only, and only at participating vendors.
Starco Brands and Cardi B infuse Whipped Cream
Ross Sklar, CEO of Starco Brands, says, "…we are creating a party in a can – bringing to life a juxtaposition of luxury and fun in a groundbreaking product with unmatched taste." You know that old trick, of squirting Whipped Cream right into your mouth? I predict that is going to get a lot more popular once Cardi B's new vodka-infused Whip hits the shelves later this year. "Whipshots is poised to change the market and give consumers something new, exciting and delicious in the alcohol sector," Sklar enthuses. We'll see.
Kit Kat spreads flavours all over the place
Kit Kat has launched a whole bunch of new flavours lately. The newest is the Kit Kat Chunky Cinnabon bar. It's currently available only in Dubai and the United Arab Emirates, but @gbgifts says the luxe Kit Kats should be available soon in North America.
Ben & Gerry's Brewing Change
The premium Ice Cream maker is partnering with 3 Black-owned businesses, incorporating their products in a new limited-0edition flavour: Change is Brewing.
The 'change' is expected to come as a result of a new bill before the U.S. Congress that maintains, "it is crucial for Congress to step up and support new inclusive, holistic, and health-centered approaches to dealing with crises that will reduce harm and truly keep our communities safe. State, local, and tribal governments across the country are already implementing innovative strategies to prevent violence,reduce harm, and improve the well being of every community, especially Black and brown communities." A portion of the proceeds from the sale of Change is Brewing will go to grassroots groups working to transform public safety in America.
'Fire' Alarm! Cheetos, Doritos Hot Sauces?
I thought it was supposed to be the other way around – that snacks copied the fploavop0urs of sauces – but… There's word that new Hot Sauces celebrating the flavours of Flamin' Hot Cheetos, Flamin' Hot Nacho Doritos and Spicy Nacho Doritos are on the way to a supermarket near you. No word when they'll be available, though. And no official announcement from the snack maker.
International Alert! Inside-out KFC Chicken Sammy
We usually joke that stuff from Down Under should be upside-down. But now, KFC Australia is selling an inside-out, Pizza-inspired Chicken sandwich.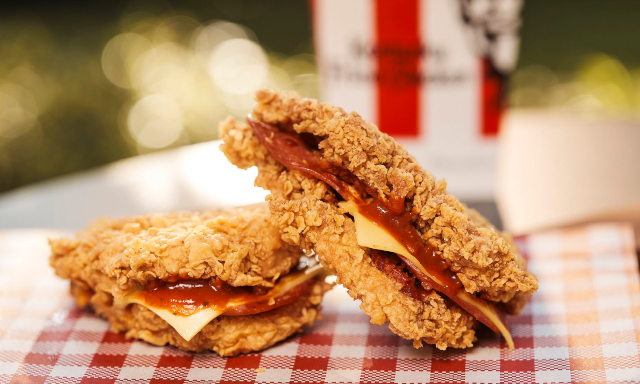 Not only is it inside-out, it's a bunless beauty with two spicy, crispy-fried Zinger chicken breast filets sandwiching two pepperoni slices, pizza sauce, and a slice of cheese. The KFC Pizza Double is available until October 4. A regular Double was marketed in Ausralia last year. The sammy was later marketed in the U.S. as the Double Down.
Novelty Alert! Gin-Inspired Pickles
Hendrick's Gin and Katz's New York Deli (corner East Houston and Ludlow) are partnering on what may count as a seasonal special targeting the year-end holidays: 'Gin-inspired' Pickles. That means there's no real Gin in them, I think, though release didn't specify. They're $14.95 per quart / 1 L jar, and will be available at Katz's store stating Monday. As soon as production ramps up, they'll be available to order from Katz's webstore. Visit now to get on the mailing list for news of the launch date.
And that's the skinny…
… On what will be making us all a little fatter over the coming days, weeks and months, on into the holiday season. Especially that full-sugar soda. See you back here in 7 for the next edition of Fast Food Week!
~ Maggie J.