We have something for everyone this week, from Chocolate lovers to Dirty Rice aficionados. Some beloved favourite limited-time menu items are back, and more than one top-tier Fast Food emporium is adding all-new treats for summer. And Buffalo Wild Wings mixes its metaphors with Bird Dawgs…
Buffalo Wild Wings expands into wild dogs
Actually, they're Crispy Fried Chicken Tenders on a hot dog bun available with a variety of toppings and sauces (see photo, above). And they call them 'Bird Dawgs'. The catch is, Dawgs are only available on the Happy Hour menu – for now, at least.
Popeye's launches '5 for $6.99' deal…
Never a week goes by these days that some mainstream Fast Food joint doesn't hatch a new promo designed to get fans to use their mobile ordering app. This time Popeye's is offering 5 pieces of fried chicken for $6.99. It's a limited time deal, at participating locations. There's also a similar 2-Can-Dine deal which includes 2 individual sides and 2 biscuits, for $9.99
… Brings back Cajun Rice
As part of its 50th Anniversary celebration, Popeye's tantalizes its fans with a limited-time offering of its popular Cajun Rice side. Some folks consider it s main! And they weren't happy when it was dropped from the regular menu last year.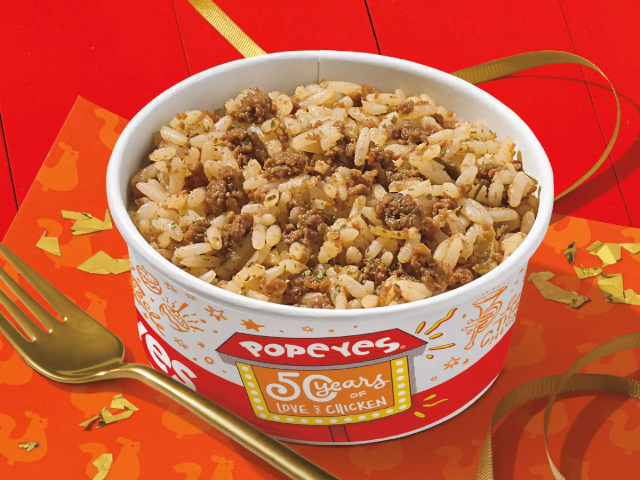 It's a simple dish: Cajun and Creole seasonings, 'Cajun' (seasoned) meat crumble, bell pepper, onion, garlic, celery, and cayenne. Also called Dirty Rice', the dish is a Louisiana classic.
Chipotle tests new Cauliflower 'Rice'
Verging on a reprise of the Indian classic Aloo Gobi, this Rice alternative steeps riced cauliflower bits in a 'signature' blend of spices including garlic, cumin, salt, and paprika (see photo, top of page). A follow-up to last year's Cilantro-Lime Cauliflower Rice, which the resto says was a real hit. It's available at 60 locations in Arizona, Southern California and Wisconsin, for a limited time.
Starbucks adds new summer treats
Pineapple Passionfruit Starbucks Refreshers blend Pineapple and Passionfruit flavours with shaved ice and chunks of fresh pineapple. An upgraded Paradise version adds a shot of coconut milk. There's also a couple of new munchables: a new Chicken, Maple Butter & Egg Sandwich and a Cookies & Cream Cake Pop.
Krispy Kreme exudes proprietary Soft Serve
KK is launching a new summer assault on your taste buds: Original Glaze Soft Serve, which is unique in as much as it is formulated to taste just like the bakery's Original Glazed Doughnuts.
The stuff will be available in shakes, cups and waffle cones in a variety of flavours with a wide variety of toppings that you're aready familiar with on KK sinkers.
Mars reaches intros sustainable Chocolate Bar
Mars makes stuff you've loved all your life, like M&Ms and Snickers bars. Now, they have partnered with Perfect Day to create 'an animal free, earth friendly and lactose free chocolate' called CO2COA. The '2' is apparently silent. You're supposed to look at the name and think 'CO2', as in 'low CO2'; low environmental impact. Perfect Day bills itself as 'the world's first animal-free dairy protein producer', and markets an extensive line of its own dairy-like products that use 'dairy' protein grown in the lab, rather than actual milk.
Ruffles adds Spicy Dill Pickle
It's NBA basketball player Jayson Tatum's favourite flavour, and it's now in a ridged chip ideal for dipping in Cool Ranch, Indian Raita, or Greek Tzatziki.
Or whatever you like. As with all superior treats, it's available for a limited time only.
Planter's gets 'Swicy'
Pronounced 'S-WHY-see', it's the unofficially official nickname for new Planter's Sweet & Spicy Dry Roasted Peanuts. They combine a splash of Honey, a sprinkle of Red Chilis and a dash of Salt. Quite an upgrade for the original popable snack!
And that's the skinny…
On what will be making some of us a little fatter – or a little cooler – over the dog days pf summer. See you back here in 7 for another edition of Fast Food Week!
~ Maggie J.