DoorDash – the popular food delivery service – has issued its mid-year report on what Canadians have been ordering-in during the COVID-19 pandemic. Some of the menu items were no surprise to me at all. But others took me completely by surprise. Which makes me feel old…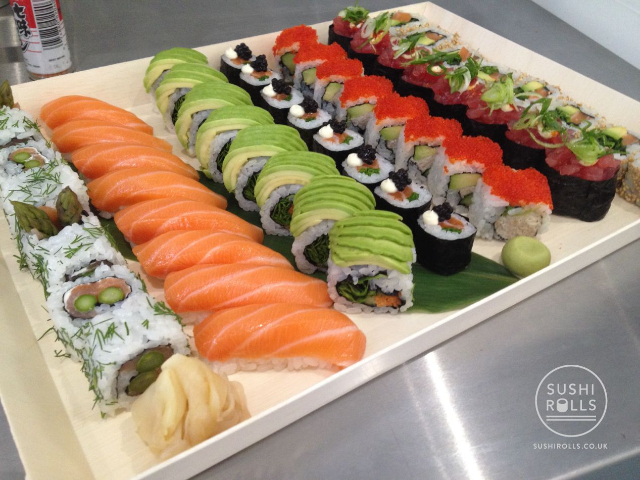 A beautiful Sushi & Sashimi platter… A surprising (to me, anyway) major favourite
on the Canadian Top Ten Delivery Food List for the first 6 months of 2020.
The report features a Canadian Top 20, which contains a little bit of everything you could possibly imagine – and some items I just assumed would never show up on a 'wartime' menu when most of us would (in past widespread emergencies) be focusing on the basics. I guess most folks are attending to the 'staples' by making occasional trips to the supermarket. But, still…
The expected
Among the items I expected to be high on the pan-Canada delivery menu, and were indeed there, included:
Burrito Bowls (1)
Poutine (3)
Chicken Lettuce Wraps (4)
Chips & Guacamole (8)
Plant-Based Burger (11)
Garlic Bread (12)
Caesar Salad (13)
Chicken Quesadilla (14)
Doughnuts (18)
Chicken Tacos (20)
There's an overriding theme here: Folks want their Tex-Mex fix! I can also understand folks wanting their classics, too (Doughnuts, Caesar Salad and Garlic Bread, and the all-time, all-Canadian favourite, Poutine – see photo, top of page).
The unexpected
Among the items that surprised me:
California Roll (6)
Dynamite Roll (7)
Tuna Poke Bowl (9)
Spicy Tuna Roll (10)
Avocado Roll (19)
Unlike my age group, it seems the convenience generations (X and younger) can't live without regular doses of Sushi, Sashimi and Poké.
And there's also a definite theme to the remaining menu items that made the Canadian top 20 for the first half of this year:
Miso Soup (5)
Pad Thai (Thai Spicy Noodles) (15)
Chicken Shawarma (16)
Gyoza (17) (Japanese style Dumplings)
Can you identify the theme here? Old faves Western diners have appropriated from Middle Eastern and Asian cuisines! This category would probably have been much larger, compared to the two others in the Top 20 for, say the UK, where Asian and Middle Eastern 'Takeaway' has become a huge part of the mainstream diet.
The overall Top 5 Condiments
In order from most to least popular:
Gravy
Tzatziki Sauce
Spicy Yogurt Dressing
Ranch Dressing
Coleslaw
Regional preferences
Among the most popular delivery items on the individual Provincial Top Ten lists was Poutine, which showed up on 8 of the ten.
While more than one Provincial Top Ten List included items such as Pizza, Chicken Wings, Fried Chicken Sandwiches, Burgers (many variations), and Fries, it occurred to me that these kinds of Fast Foods were probably doing most of their COVI-19 lock down business through their own delivery people and contactless pick-up, so DoorDash did not figure in.
One other thing I noticed was, many other Asian specialties made the individual Top Tens, but most of those were one-offs on particular lists. The lesson here? We must not minimize the impact of Asian cuisine on our Most-Wanted Lists!
Visit the Food In Canada reprint of the DoorDash List news release for details on your Province's Delivery Food preferences profile…
Okay, cooks out there…
Now you have to weight your own desire for convenience in finer(er) dining during the COVID-19 lock down against the premium you'll pay for delivery to your door…
~ Maggie J.