After a couple of years of food poisoning scandals and other troubles including a class action lawsuit over its Non-GMO status, the Burrito chain is now embroiled in a dispute over whether it has been cheating customers out of their change…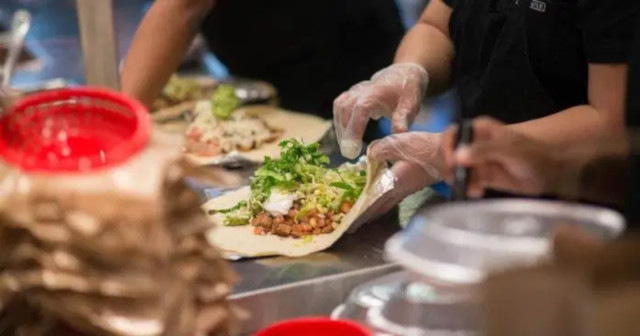 The 'watch as we make your Burrito' Chipotle's up-front assembly line.
I wish I could reliably get Tortillas as big as those!
Poor old Chipotle's can't seem to catch a break. After several years of controversy over food safety and food poisoning incident, a change in CEOs, and a commitment to pare down their menu to their core basics, the company – or at least a few rogue operators – have been caught with their pants down again, in yet another embarrassing episode.
Imagine for a moment that you've just finished your lunch at Chipotle's and your tab came to $$8.72. You hand over a $20. bill and receive only $11 in change instead of the $11.28 you were expecting. That's what happened to a woman when she visited a Chipotle's in Pine, Pennsylvania not long ago. Now multiply that by thousands of customers and you can understand why folks are so upset about the Burrito chain's 'Sorry – No Change' policy. While most retailers would tell their customers up front that they're not providing small change due to the national U.S. coin shortage – which is in turn due to the drop in cash transactions during the COVID-19 crisis – it seems that at least some Chipotle's locations in the Northeast aren't telling folks until it comes time to pay their tabs.
Nothing wrong with the basic policy
Now, there's nothing wrong with a no-change policy, on the face of it. Some outlets opted to go for a 'No Cash' policy from the outset when they decided to keep operating on a 'takeout or delivery only' basis during the pandemic crisis. They decided to hedge their bets in case it turned out that passing cash back and forth could result in passing the virus back and forth. Turns out that's not highly likely, as the COVID-19 bug needs to be hosted in moisture droplets to travel, but the vast majority of retailers (mainly food outlets) which are operating on the aforementioned basis are sticking to their credit/debut card only policies. The difference is, they tell you right up front, before you even place your order, so you can opt not to eat there if you don't like the policy.
Seeking class action certification
Frank G. Salpietro, the attorney who filed the initial complaint this past Thursday in the Allegheny County Common Pleas Court, told the Pittsburgh Tribune-Review, "It's our understanding this is a top-down policy. […] We expect to be able to reveal more details later."
The court filing further alleges: "This 'company policy' not only discriminates against consumers who do not have, or do not wish to use credit cards, but also results in a tax-free cash windfall to Chipotle." Customers' losses could total hundreds of thousands of dollars, if not millions. It all depends on how long the scheme has been operating.
To make things even more interesting', it appears, from other complaints, that Chipotle's isn't the only retailer in the Pittsburgh area that's 'keeping the change'.
Chipotle's fights back
Chief Corporate Affairs and Food Safety Officer Laurie Schalow issue a statement that reads in part: "Chipotle's policy is to give customers the exact change they are owed when making a cash purchase in our restaurants. If a restaurant is low on change as a result of the nationwide coin shortage, our policy is to only accept exact change or other non-cash forms of payment. Restaurants that are impacted have signage posted on the door as well as inside, and employees have been instructed to alert guests prior to ordering. We encourage customers to contact us immediately with any concerns so we can investigate and respond quickly to make things right."
So… That dumps the mess right back into the Pennsylvania-region Chipotle operators' laps. There are about 90 Chipotle locations in the state.
My take
I can't imagine that any anyone with anything but the lowest opinion of their customers' intelligence would consciously attempt to pull a con such as the aforementioned change swindle. Yet, it would have been sooooo easy to have ensured that the policies and procedures described by Schalow were carried out to the letter… The whole thing fails to pass the smell test.
We'll be keeping a close eye on this case for you as it develops.
One broader but related observation: It might be looked upon as a minor miracle that more crooked business people and outright thieves haven't tried to capitalize on the confusion and disruption of the pandemic crisis to rip off the masses… Or maybe they have and folks just haven't noticed, yet…
~ Maggie J.