It's the last thing we need, in an era of rising food prices and increasing food insecurity. Are supermarket chains gouging excess profits? Canadian federal opposition party lawmakers say there's no other way to explain the continued rise in prices as inflation eases…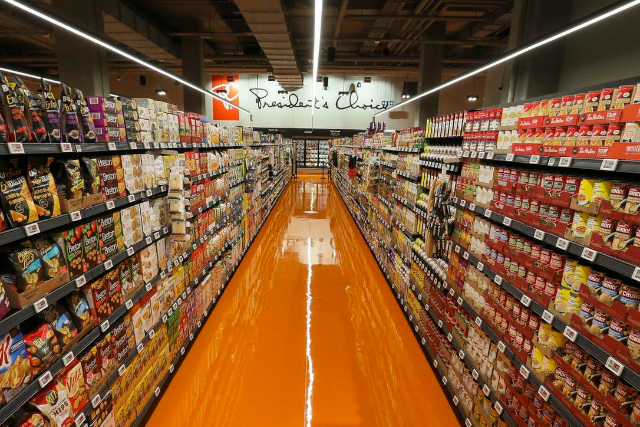 Mega supermarkets gouging excess profits in the midst of world food crisis?
A fair question…
… At least, if you consider the picture as it first meets the eye. But economists who dig deeper aren't so sure.
Nevertheless, federal opposition party members are calling for an official investigation. Latest official figures show food prices were up 10.8 percent across Canada in the last year while overall inflation has fallen back a bit, to just over 7 percent.
"I think Canadians deserve answers and […] in this time where they see the prices of everything going up. […] Unfortunately they have a Liberal government which has not paid much attention to the role that corporate greed plays in the increasing prices they're seeing," New Democratic Party agriculture critic Alistair MacGregor told the CBC. He wants an inquiry into allegations of price fixing amid the confusion of recent economic developments.
What's going on?
The new figures show that Loblaws (the biggest; see logo, top of page), Metro and Empire – which together control the vast majority of supermarkets in Canada – aren't hurting at all. Loblaws reported profits of (C)$387 million — an increase of $12 million, or 3.2 per cent, over the same quarter last year. Metro reported a $275 million profit, up from $252.4 million, for the same period. Empire's profit was more or less flat for the same period.
So where did the money come from?
Supermarkets strike back
Loblaws and Metro claim their profit booms came out of increases in pharmaceutical sales. Some observers say that just doesn't add up. Certainly, consumers are suspicious, just on the basis of the raw numbers. Who could blame them?
"I know Canadians are trying to do everything they can to balance their budgets," Mac Gregor said. "But they also deserve to have parliamentarians look at this issue and find solutions."
Economists say 'it's complicated'
"It's incredibly difficult to actually make an allegation that [major grocers] are actually profiteering, but there's no doubt they're doing pretty well," University of Toronto professor Partha Mohanram, an expert in financial statement analysis, said.
"If 'greedflation' exists, the available data suggests grocers are not responsible," a recent report from Dalhousie University found. "If people are accusing grocers of gouging and profiteering we don't know where they're getting their data," said report author Sylvain Charlebois.
Nevertheless, Charlebois says any probe of grocery prices should be broad-based, taking into account global factors such as the war in Ukraine, climate change, and rising costs for agriculture-related commodities, not the least of which include fuel and fertilizer. The powerful The Retail Council of Canada, which represents the major grocers, says it doesn't oppose a committee study – but…
What do you think?
Is it all that 'complicated'? Should we, as consumers, dare to question the 'experts'? Should we take the Retail Council's word for it, that the big grocery chains aren't gouging?
Will we ever know for sure what's going on with food prices right now?
~ Maggie J.